Business Breakfast Catering - Continental Breakfast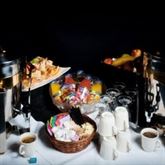 Price Per Person $10.00 + tax
Business breakfast featuring muffins, scones and danishes, fruit and coffee. Add on yogurt and/or cinnamon buns!
Dietary Concerns?
Gluten Free, Dairy Free or any other dietary options are available for additional fee's.
This Menu Includes all of the Below:
Continental Breakfast
Fresh Seasonal Fruit Platter
Selection of seasonal sliced fruit.
Muffins, Scones & Danishes
A variety of freshly baked bite size muffins, scones, and danishes. (2 pieces per person)
Fresh Ground Coffee
100% Columbian coffee made from Better Blend Coffee. Cream, sugar, stir sticks, and coffee cups included.
Additional Information
Minimum 15 people.
Add Bottled Water for $1.00 each
Add Bottled Juice for $2.00 each
Add Yogurt for $1.50 more
Add Cinnamon Buns for $1.50 more
The Price Per Person Includes
All Business Breakfasts Include:  Take out plates/bowls, cutlery and napkins. Sustainable dishes can be arranged.