Business Catering – Traditional Hot Breakfast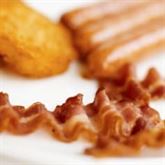 Price Per Person $15.25 + tax
Business breakfast featuring scrambled eggs, bacon or sausage, hashbrowns, muffins, scones and danishes, fruit platter and coffee.
Dietary Concerns?
Gluten Free, Dairy Free or any other dietary options are available for additional fee's.
This Menu Includes all of the Below:
Traditional Hot Breakfast
Fresh Seasonal Fruit Platter
A variety of seasonal fresh fruits.
Muffins, Scones & Danishes
A variety of freshly baked bite size muffins, scones, and danishes. (2 pieces per person)
Scrambled Eggs
Freshly cracked scrambled eggs topped with shredded cheese.
Bacon, Sausage & Ham
Crispy maple bacon, breakfast sausage, and honey smoked ham. (2 of each per person)
Hash Browns
Homemade hash browns; diced and oven roasted with herbs & spices.
Fresh Ground Coffee
100% Columbian coffee made from Better Blend Coffee. Cream, sugar, stir sticks, and coffee cups included.
Additional Information
Minimum 15 people.
Add Bottled Water for $1.00 each.
Add Bottled Juice for $2.00 each.
Add Yogurt or Cinnamon Buns for $1.50 more!
The Price Per Person Includes
All Business Breakfasts Include:  Take out plates/bowls, cutlery and napkins. Sustainable dishes can be arranged.