Business Catering – Oven Roasted Chicken Dinner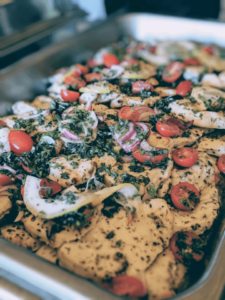 Price Per Person $17.00 + tax
A classic chicken dinner that everyone can enjoy. Oven roasted chicken breasts in a lemon herb seasoning salads and cookies.
Dietary Concerns?
Gluten Free, Dairy Free or any other dietary options are available for additional fee's.
This Menu Includes all of the Below:
Oven Roasted Chicken Dinner
Tossed Salad
Fresh greens, with freshly cut tomatoes, cucumber, peppers & onions ; served with a creamy italian dressing.
Potato Salad
Diced red potatoes, carrots, celery, and green onions served with a creamy garlic tarragon aoli.
Oven Roasted Lemon Herb Chicken
Oven roasted sliced chicken breast with a lemon zest herb seasoning.
Greek Rice
Baked rice, lemons, and Greek seasonings.
Assorted Fresh Baked Cookies
A variety of freshly baked cookies.
Additional Information
Minimum 30 people.
Add Bottled Water for $1.00 each.
Add a Variety of Pop for $1.50 each.
Add Bottled Juice for $2.00 each.
The Price Per Person Includes
All Business Dinners Include: Take out plates/bowls, cutlery and napkins.Sustainable dishes can be arranged.