Business Catering – Taco Bar Dinner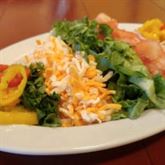 Price Per Person $17.00 + tax
Fiesta style dinner featuring your choice of meat (beef or chicken; half and half orders available), soft flour shells, Santa Fe salad, tortilla chips & salsa and assorted cookies. All the taco fillings included:
Salsa
Sour cream
Diced tomatoes, shredded lettuce, hot peppers
Shredded cheese
Dietary Concerns?
Gluten Free, Dairy Free or any other dietary options are available for additional fee's.
Something missing? Just ask!
This Menu Includes all of the Below:
Taco Bar Dinner
Homemade Tortilla Chips
Tortilla chips served with fresh salsa.
Santa Fe Salad
Toss salad topped with sweet corn, diced tomatoes, peppers, olives, onions, cheddar cheese and crispy tortilla chips served with a Chipolte dressing.
Taco Beef
Ground beef cooked in taco seasonings. Chicken taco option is also available.
Taco Fillings & Soft Shells
Salsa, sour cream, diced tomatoes, shredded lettuce, hot peppers, and shredded cheese. Served with warm soft flour tortilla shells.
Assorted Fresh Baked Cookies
A variety of freshly baked cookies.
Additional Information
Minimum 30 people.
Add Bottled Water for $1.00 each.
Add a Variety of Pop for $1.50 each.
Add Bottled Juice for $2.00 each.
The Price Per Person Includes
All Business Dinners Include: Take out plates/bowls, cutlery and napkins.Sustainable dishes can be arranged.