Business Catering – Hot Beef Dip Lunch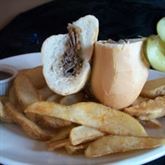 Price Per Person $15.00 + tax
Classic Hot Beef dip with 2 salads and cookies.
Dietary Concerns?
Looking for Gluten Free, Dairy Free or any other dietary options are available for additional fee's.
This Menu Includes all of the Below:
Hot Beef Dip
Tossed Salad
Fresh greens, with freshly cut tomatoes, cucumber, peppers & onions ; served with a creamy italian dressing.
Creamy Pasta Salad
Penne or rotini pasta with carrots, celery, broccoli, mixed together in a creamy roasted garlic dressing.
Beef Dip Sandwich
Shaved roast beef with caramelized onions and mozzarella cheese served on a fresh oval kaiser with gravy.
Assorted Fresh Baked Cookies
A variety of freshly baked cookies to include; double chocolate, chocolate chip, macadamia nut, ginger snap, or oatmeal raisin.
ADDITIONAL INFORMATION
Minimum 10 people.
Add Bottled Water for $1.00 each.
Add a Variety of Pop for $1.50 each.
Add Bottled Juice for $2.00 each.
The Price Per Person Includes
All Business Lunches Include: Take out plates/bowls, cutlery and napkins.Sustainable dishes can be arranged.