Business Catering – Pasta Buffet Lunch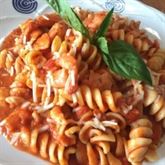 Price Per Person $15.00 + tax
A create your own pasta buffet featuring your choice of 2 Pastas and 2 Sauces! Included with the buffet is Caesar salad, garlic bread and freshly baked cookies.
Dietary Concerns?
Looking for Gluten Free, Dairy Free or any other dietary options are available for additional fee's.
This Menu Includes all of the Below:
Pasta Buffet Business Lunch
Garlic Bread
French bread baked with a creamy garlic butter.
Caesar Salad
Romaine lettuce tossed in our signature creamy garlic Caesar dressing topped with Asiago cheese and crunchy croutons.
Pasta
Your choice of two pasta noodles, such as; spaghetti, rigatoni, rotini, macaroni, or bow tie.
Pasta Sauce
Your choice of two pasta sauces, such as; primivera, bolognese, or rose or call to discuss.
Assorted Fresh Baked Cookies
A variety of freshly baked cookies.
ADDITIONAL INFORMATION
Minimum 10 people.
Add Bottled Water for $1.00 each.
Add a Variety of Pop for $1.50 each.
Add Bottled Juice for $2.00 each.
The Price Per Person Includes
All Business Lunches Include: Take out plates/bowls, cutlery and napkins.Sustainable dishes can be arranged.