Business Catering – Seafood Business Lunch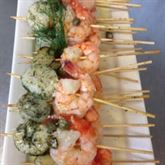 Price Per Person $17.00 + tax
Enjoy a seafood twist for lunch! Our seafood skewers are loaded with flavour along with prawns, scallops, & salmon. This entree is served with steamed rice and an crispy asian coleslaw that is sure to be a crowd pleaser. Freshly baked cookies are always included! Add a chicken skewer for $3 more! Inquire within.
Dietary Concerns?
Looking for Gluten Free, Dairy Free or any other dietary options are available for additional fee's.
This Menu Includes all of the Below:
Seafood Business Lunch
Crispy Asian Coleslaw
Shredded cabbage, carrots, and a zesty soy ginger dressing topped with wonton crisps.
Seafood Skewers
Prawn, scallops, basa skewered with a lemon garlic butter. This item is great for the grill!
Steamed Rice
Steam served plain or with a cumin butter.
Medley of Mixed Vegetables
Seasonal fresh vegetables served in a ginger or garlic butter.
Assorted Fresh Baked Cookies
A variety of freshly baked cookies.
Additional Information
Minimum 15 People.
Add Bottled Water for $1.00 each.
Add a Variety of Pop for $1.50 each.
Add Bottled Juice for $2.00 each.
Price is based on market pricing and is subject to change. Please call or email for updated pricing.
The Price Per Person Includes
All Business Lunches Include: Take out plates/bowls, cutlery and napkins.Sustainable dishes can be arranged.