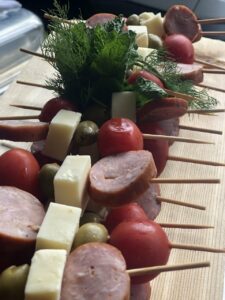 If you are looking to add other appetizers into a menu please choose the all appetizers link here or to the left.
If you are unsure of any of your selection or would like to add other items from our website, please call us and we can help make arrangements for your special event.
Build your menu by selecting any of the below:
Appetizers - Cold Savoury
Stuffed Chicken Wonton Shells
Crispy handmade wonton stuffed with diced Bombay chicken, garlic pesto chicken, or macadamia nut chicken.
Prosciutto Baguette
Cured smoked ham on a toasted baguette, finished with a balsamic glaze.
Sausage Cheese + Olive Skewer
Sliced sausage, cubed cheese, and salty olives.
Turkey Cranberry Baguette
Sliced turkey with cranberry aioli on a toasted baguette.
Appetizers - Hot Savoury
Mini Yorkies
Slow roasted beef sliced stuffed in a fresh yorkie finished with a demi and onion relish.
Sweet Chili Chicken Satay OR Hawaiian Chicken Skewers
Chicken satay with honey siracha chili & lime with toasted sesame seeds OR diced chicken breast in a ginger teriyaki skewered with fresh pineapples.
Traditional Beef Meatballs
Served with your choice of BBQ Thai or Teriyaki sauce.
BBQ Beef Sliders OR Chicken Sliders
Shaved roast beef stacked on a mini slider with sauteed onions and mozza cheese OR pulled chicken stacked on a mini slider with sauteed onions and mozza cheese.
Additional Information
Contact Ritz Catering to discuss any of the extra's that you may require for your event.