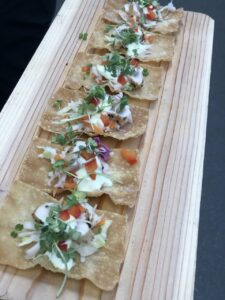 The following items are available, however, we are happy to customize any appetizer menu to your preference.
If you are unsure of any of your selection or would like to add other items from our website, please call us and we can help make arrangements for your special event.
Appetizers - Cold Seafood
Salmon Lox on Rye Bread
Served with cream cheese, dill, red onion and capers on rye.
Stuffed Seafood Wonton Shells
Crispy handmade wonton stuffed with shrimp or crab in a Bombay dressing or garlic pesto.
Seared Tuna on Wonton Crisp
Ahi tuna seared and sliced on a crispy wonton crisp topped with a wasabi coleslaw.
Large Cocktail Prawns
Served with your choice of Thai, basil aoli, or cocktail sauce.
Smoked Salmon Puff
Smoked salmon cream cheese in a delicate puff.
Appetizers - Hot Seafood
Crab Cakes
Fresh crab breaded in panko fried golden served with a chili aoli.
Prawn + Scallop Skewer
Fresh prawns and scallops grilled with tomato, garlic, capers, butter topped with fresh herbs and lemon.
Torpedo Prawns
Large tiger prawns panjo braded and served with a Thai chili dip.
Fish Tacos
Soft flour taco with sante fe coleslaw, Cajun snapper, chipotle aoli, lime and cilantro
Additional Information
Contact Ritz Catering to discuss any of the extra's that you may require for your event.