Everyday Catering - Deluxe Christmas Lunch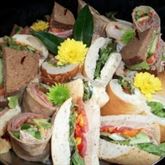 Price Per Person $17.50 + tax
A finger-friendly lunchtime menu to reflect the scrumptious tastes of the season! Serve this at a meeting, afternoon Christmas party, or even a school function.
This menu Includes all of the below:
Deluxe Christmas Lunch Menu
Fresh Cut Vegetable Platter
Fresh vegetables sliced to include; celery, carrots, peppers, broccoli, cauliflower, & grape tomatoes. Served with ranch or a creamy dill dip.
Fresh Seasonal Fruit Platter
Selection of seasonal sliced fruit, such as; strawberries, grapes, cantaloupe, watermelon, oranges, & pineapple.
Assorted Wraps and Sandwiches Platter
A variety of wraps, buns, & breads freshly made to include an assortment of toppings, fillings, & cold cuts such as; Ham, Turkey, Roast Beef, Veggie, Egg Salad, & Tuna Salad.
Spinach Salad Topped with Berries
Seasonal sliced fresh fruit such as; strawberries, cranberries & blueberries on a bed of fresh spinach. Served with a poppy seed dressing and topped with asiago cheese.
Additional Information
This menu requires a minimum order for 20 guests.
**Minimum 30 people for Dinner drop off service.
Add our

Chef's homemade soup

for $4.00 more per person.
Add our

dessert platter

for $3.00 more per person.
Add on

coffee service

for $2.00 more per person.
Add on

assortment of drinks

(pop + water) for $1.25 more per person.
The Price Per Person Includes
Takeout plates, cutlery and napkins.