Everyday Catering - Summer Sizzle BBQ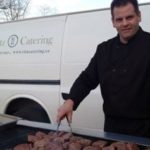 Price Per Person $20.00 + tax
A step up from our
Wind-Up BBQ
menu - you will enjoy spoiling your Staff at your next Staff Appreciation BBQ or relax and kick back with family at your next reunion!
Keep in mind - the Salads on this menu are suggestions, the final decision is yours!
We look forward to catering your next BBQ!
This menu Includes all of the below:
Summer Sizzle BBQ Menu
Fresh Cut Vegetable Platter
Fresh seasonal vegetables served with a creamy dill dip.
Wild Greens Salad
Mixed greens topped with a variety of seasonal berries and dried fruit; served with a house cranberry balsamic vinaigrette.
Summer Tortellini Salad
Cheese-filled tortellini, sun-dried tomatoes, spinach, red onions, green black olives, bell peppers with a garlic pesto dressing.
Sirloin Burgers or Smokies
Your choice of sirloin beef burgers or all beef smokies. Vegetarian options available.
Kaisers & Condiments
Soft kaiser buns served with sliced cheddar cheese, mayonnaise, ketchup, mustard, and relish.
Assorted Fresh Baked Cookies
A variety of freshly baked cookies.
Assorted Canned Pop & Bottled Water
Variety of canned pop & bottled water. Add juice for an extra $1.00 per person.
UPGRADE WITH THESE ADD-ONS:
Bacon
Sauteed onions & mushrooms
Prawn Skewers
Additional Information
**Minimum 10 people for Lunch drop off service.
**Minimum 30 people for Dinner drop off service.
**We can arrange for service staff, chef & bbq for an additional fee for over 50 guests.
The Price Per Person Includes
Takeout plates, cutlery and napkins.
**Ask about our All Inclusive Option with 100+ Guests**