Business Catering – Fresh Croissant Business Lunch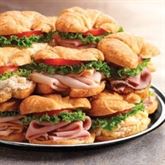 Price Per Person $14.00 + tax
Assorted croissant lunch featuring our fresh assorted croissants platter, salads and assorted fresh baked cookies.
Dietary Concerns?
Looking for Gluten Free, Dairy Free or any other dietary options are available for additional fee's.
This Menu Includes all of the Below:
Fresh Croissant Business Lunch
Assorted Croissant Platter
Fresh croissants filled with a variety of deli meats, specialty fillings, cheeses, veggies, and spreads.
Spinach Beet Root Salad
Sliced beets on spinach with candied pecans and mandarin oranges topped with goat cheese and served with a poppy-seed dressing.
Authentic Greek Salad
Tomatoes, cucumber, red onion, peppers, and salt black olives in a Greek style dressing topped with feta cheese.
Assorted Fresh Baked Cookies
A variety of freshly baked cookies.
ADDITIONAL INFORMATION
Minimum 10 people.
Add Bottled Water for $1.00 each.
Add a Variety of Pop for $1.50 each.
Add Bottled Juice for $2.00 each.
The Price Per Person Includes
All Business Lunches Include: Take out plates/bowls, cutlery and napkins. Sustainable dishes can be arranged.