Wedding Catering - Elaborate Orchid Package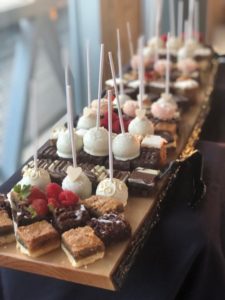 $62.00 per guest
When you're vision includes three entrees, choose our Elaborate package.
Our elaborate orchid wedding package is made specifically for those wanting a little bit of everything on the menu! It includes:
Artisan Buns & Butter (traditional, herb, sourdough, & pumpernickel)
Seasonal Fruit Platter
Coffee/Tea
Elaborate Orchid Package - additional menu add-on's...
Add Elaborate Desserts to your Buffet for $5.00 more per person.  To include cakes such as:  Chocolate & Raspberry Mousse Cakes, Carrot Cake, Tiramisu and chocolates.
Add-on our 8ft Charcuterie board for your cocktail hour!
Daisy Package - what's included?
Dinner Plates, Forks & Knives
Wine Glasses (1 per person)
Water Glasses (1 per person) & Stainless Steel Pitchers
White Paper Napkins
Coffee Cups & Stir Sticks
Dessert Plates & Forks
Buffet Linens
*Having your wedding at the
UBC Boathouse
? Inquire within for our exclusive UBC Boathouse package*