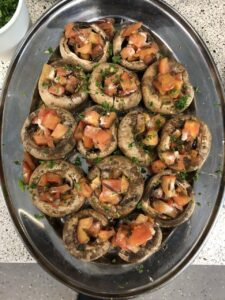 The following items are available, however, we are happy to customize any appetizer menu to your preference.
If you are unsure of any of your selection or would like to add other items from our website, please call us and we can help make arrangements for your special event.
Appetizers - Cold Vegetarian
Seasonal Fruit Skewers
Diced fresh seasonal fruit.
Caprese Salad Kabobs
Grape tomatoes, mozzarella pearls, cucumber and basil on a skewer drizzled in a balsamic.
Watermelon Feta Skewer
Watermelon skewered with feta cheese, mint, and drizzled with balsamic.
Strawberry Basil + Goat Cheese Bruschetta
Fresh quarter cut strawberry with creamy goat cheese on top of a toasted baguette with a sweet balsamic.
Bruschetta on Baguette
Fresh bruschetta topped on a crisp sliced baguette topped with bocconcini.
Appetizers - Hot Vegetarian
Cauliflower Wings
Panko breaded golden fried served with a creamy ranch.
Mini Spanikopita
Spinach, feta, garlic stuffed in a flaky filo pastry served with tzatziki dip.
Grilled Veggie Flat Bread
Oven roasted peppers, zuchinni, artichokes, red onion on a garlic flatbread with melted goat cheese topped with a balsamic glaze.
Veggie Taco
Diced yam, black beans, cilantro, corn, and red onion with a lime chipotle aoli.
Additional Information
Contact Ritz Catering to discuss any of the extra's that you may require for your event.