Everyday Catering - Backyard BBQ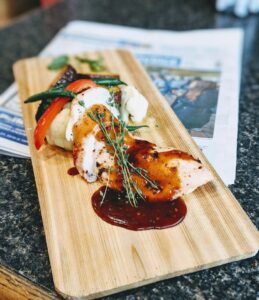 Price Per Person $23.00 + tax
Our Backyard BBQ is perfect for a casual get together. Enjoy a nice evening with your co-workers, or family & friends - whichever your event may be. Let Ritz take care of all your food needs - especially with our All Inclusive Option, if your event is over 100 Guests! 
This menu Includes all of the below:
Backyard BBQ Menu
Fresh Seasonal Fruit Platter
Selection of seasonal sliced fruit, such as; strawberries, grapes, cantaloupe, watermelon, oranges, & pineapple.
Fresh Cut Vegetable Platter
Fresh seasonal vegetables served with a creamy dill dip.
Spring Platter Salad
Heirloom tomatoes, cucumber, red onion, avocado, bocconcini cheese and fresh basil on spinach with balsamic olive oil dressing.
Roasted Yam, Quinoa, & Kale Salad
Quinoa, roasted yams, kale, pumpkin seeds, raisins, bell peppers and red onions in a garlic vinaigrette.
BBQ Chicken Breast
Oven roasted sliced chicken breast served in our signature BBQ sauce.
Assorted Fresh Baked Cookies
A variety of freshly baked cookies.
Assorted Canned Pop & Bottled Water
Variety of canned pop & bottled water. Add juice for an extra $1.00 per person.
UPGRADE WITH THESE ADD-ONS:
Sauteed onions & mushrooms
Prawn Skewers
Add-On 6oz Sirloin Steaks (+$5 pp)
Additional Information
**Minimum 10 people for Lunch drop off service.
**Minimum 30 people for Dinner drop off service.
****We can arrange for service staff, chef & bbq for an additional fee for over 50 guests.
The Price Per Person Includes
Takeout plates, cutlery and napkins.
**Ask about our All Inclusive Option with 100+ Guests**