Everyday Catering - Wind-Up BBQ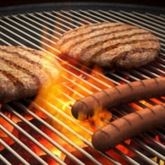 Price Per Person $17.00 + tax
The lazy summers of childhood may be long gone for most grown-ups, but it's easy to recreate the nostalgia with Ritz Catering.
Pick our Wind-Up BBQ menu for a simple menu idea at your next busy event! A great addition for Fundraisers and sports team Windup Parties!
This menu Includes all of the below:
Wind-Up BBQ Menu
Fresh Seasonal Fruit Platter
A variety of seasonal fresh fruit.
Potato Salad
Diced red potatoes, carrots, celery, and green onions served with a creamy garlic tarragon aoli.
Strawberry & Greens Salad
Urban greens with sliced strawberries, red onion, candied pecans, and goat cheese served with a cranberry vinaigrette.
Sirloin Burgers or Smokies
Your choice of sirloin beef burgers or all beef smokies. Vegetarian options available.
Kaisers & Condiments
Soft kaiser buns served with sliced cheddar cheese, mayonnaise, ketchup, mustard, and relish.
Assorted Fresh Baked Cookies
A variety of freshly baked cookies.
Upgrade with these add-ons:
Bacon
Sauteed onions & mushrooms
The Price Per Person Includes
Takeout plates, cutlery and napkins.